TRANSFORMING LIBRARY SPACES AND CAPTURING THE IMAGINATIONS OF CHILDREN AND THEIR ADULTS.
Upswing have been collaborating with libraries since 2014 to run alternative, creative experiences. Whether it's a live performances or an interactive workshop, all of our work in libraries is centred around encouraging families to play, discover their local community libraries and spend valuable quality time creating and learning together.
Alongside our workshops, Upswing has created and toured four full-scale productions for libraries: Seasons, Once Upon A Pillowfight, Topsy Turvy and Pitch.
If you are looking for an activity, workshop or show for your library, get in touch about an existing work (above) or ask us about developing a new partnership. Contact on projects@upswing.org.uk
I thought 'is there awe and wonder?' and then saw the children's expression change! I heard the words 'Wow!' and 'Ooh!' Audience Member
"Upswing were so friendly and made the children feel really at home in the session. It was wonderful for the children's confidence and their communication" Play Plus Coordinator at Big Red Bus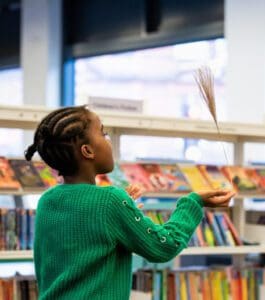 "I was surprised that my group could create so much in 25 minutes" Young Workshop Participant
Library groups we have worked with
Brent Libraries, Waltham Forest Libraries, The Royal Borough of Kensington and Chelsea Libraries, Nottingham City Libraries, Newham Libraries, Sandwell Libraries, Stoke-on-Trent Libraries