Upswing helps artists and freelancers to progress their skills and gain regular employment in circus and performance.
We offer training and mentoring opportunities to existing and aspiring circus professionals at any stage in their career. Committed to providing inclusive opportunities and making circus careers accessible to all, our training is always free or affordably priced. Artists we have mentored and trained have gone on to develop their own shows, as well as work in the Paralympic Opening Ceremony, with the Royal Opera House and the Royal Shakespeare Company.
Mentoring Artists
Upswing provides a range of mentoring to suit the needs of the individual. In the past we have mentored emerging circus artists to develop their acts, assisted with devising choreography, helped artists to discover funding opportunities, and supported organisational development.
Upswing's Artistic Director Vicki Dela is currently supporting circus artist Joana Dias to create her first solo work – '89. She is mentoring Joana artistically through the project, taking on the role of director. Alongside this, Vicki is supporting Joana with career progression to become a director in her own right.
We have mentored circus artist Jessica Andrade on the continued development of her work Brownie Club, one of the projects supported through our Circus Circus Circus residency. Jessica entered the circus sector through our early development programme Step Up, detailed below.
Upswing's Artistic Director also convenes and co-ordinates a peer mentoring meetup – the Sunday Brunch group. Read more about the Sunday Brunch group and how it has developed here.
Training
From 2010-2016 we ran Step Up and In Flight: bi-annual training and mentoring programmes to support young, diverse artists into entering the sector.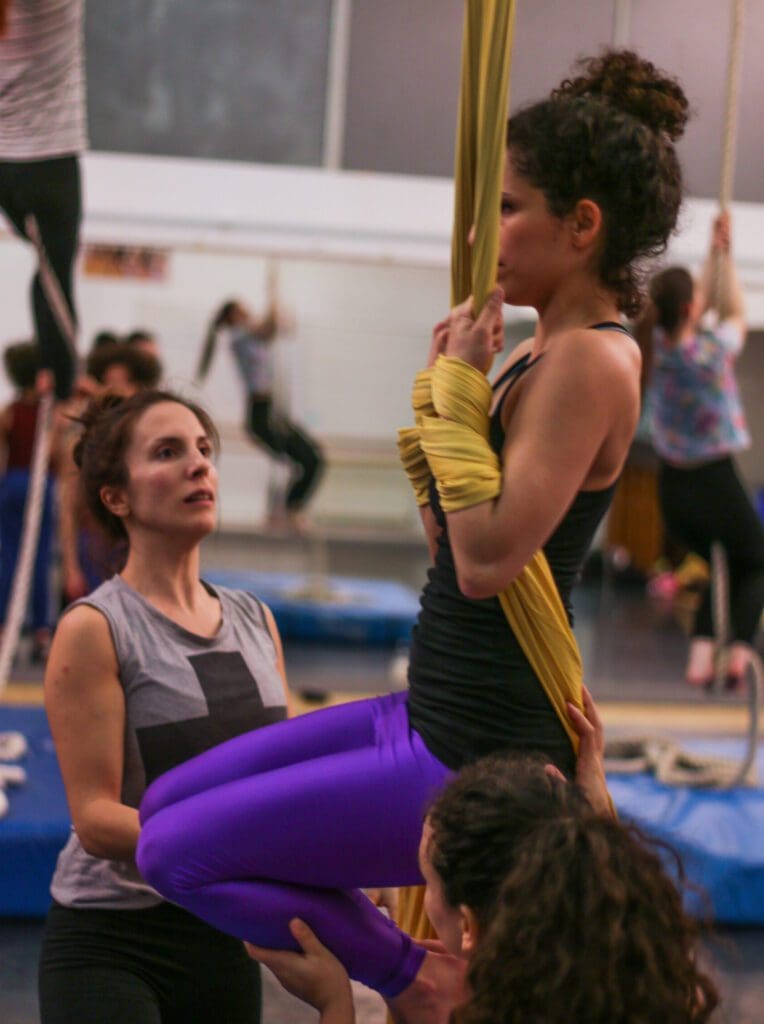 Step Up was an intensive two-week programme in acrobatics and aerial skills. It kickstarts circus training for artists with physical experience as they create a short routine that can be used as an audition piece and up to three artists will be selected for further mentorship with Upswing. Step Up is supported by The National Centre for Circus Arts.
InFlight was delivered in partnership with WAC Arts and Scarabeus Aerial Theatre as a development of Step Up. Applicants were from an even wider range of physical backgrounds including martial arts, parkour and dance, but all were new to aerial. This programme ran over two years providing training in trapeze, aerial silks, rope, abseil and bungee harness, with an incredible opportunity to perform in InFlight From Home at Hampstead Town Hall at the end.
TESTIMONIES
"To successfully cast our productions, it is increasingly essential that the arts industry provides facilities and organisations that help develop the skill base of performers from all backgrounds. Crucially, the Step Up programme provides performers from a diverse range of backgrounds with focused training, which has already had positive outcomes for our company."
James Orange, Casting Director, Cameron Mackintosh Ltd
"Circus, it's not very diverse and when you don't see yourself represented you think, "I'm never going to do this because this is not for me." A very important thing I saw in Step Up was people with the same dilemmas. When you share a space with people that have similar experiences you don't feel alone."
Milton Lopes, Actor
"[Step Up] gave me a really solid foundation: all the training I've done since goes back to what I learnt in that programme. My biggest gig last year was being cast in a Birmingham Rep production. Having circus skills on my CV definitely put me at an advantage over other performers."
Mei Mac, Actor
"My aerial artistic development began in 2011 when I took part in the two week intensive programme, from there my passion grew. Thanks to the continuous mentoring and training from Upswing I am proud to be presenting my first show in 2019."
Jessica Andrade, Actor
"Both Step Up and InFlight have allowed me to put questions of money aside and just think about the training. I now feel I can actually do this as a career, focus on aerial dance and circus theatre."
Rachel Brennan, Performance Artists/Dancer
"Step Up not only gave us incredible physical training, but it also was really character building. If you'd told me two years ago that I would be entering my second year of NCCA training and on my way to becoming a professional circus artist, I would have laughed!"
Daniel Ash, Performance Artist