PLAY AND POTENTIAL: WHAT MIGHT CIRCUS LOOK LIKE IF IT WERE CREATED WITH OLDER PEOPLE?
Upswing continually push the boundaries of the spaces that circus can occupy. Since 2013 our work has continued to explore the potential for circus with older people and those around them.
We began this journey whilst researching our production of What Happens in the Winter, exploring ideas around changing bodies and physicality on stage with older circus and dance practitioners.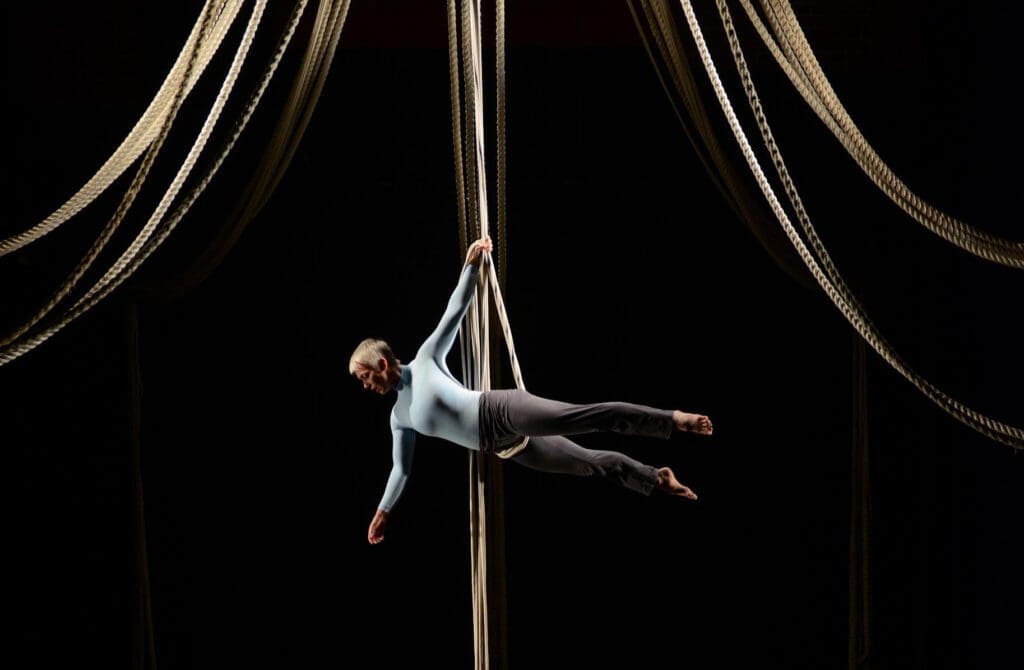 Over time, we built a network of partners and our workshop offer developed into a programme of activities with participants aged 60 to 90 that culminated in the creation a short film for Channel 4, Falling/Flying.
These collaborations challenged notions of ageing and identity within the groups we worked with and further afield, each session becoming a catalyst for further exploration around access to art and isolation.
Since then, we have continued to develop our practice with the care community and with older people, including those with dementia, in order to shine a light on the extraordinary potential for creativity that exists in residential homes
HOMEMADE CIRCUS
Commissioned by Hull UK City of Culture in 2017 with the support of the Baring Foundation, Upswing created Homemade Circus: a multi-sensory experience which brought a spirit of adventure to six care homes in Hull.
In 2022 Upswing was awarded 3-year funding by the City Bridge Trust and The Rayne Foundation to continue working on Homemade Circus with an expanded and updated version of this programme, working with London and East of England care homes in a post-Covid world.
WHAT HAPPENS IN THE WINTER
In the Research & Development conversations and workshops for What Happens in the Winter, Upswing engaged older circus artists, dancers and physical performers in collaboration with Dance In Devon.
FALLING/FLYING
Exploring the relationship between circus and falling; this project grew from a series of labs we held that considered experiences of ageing and our physical environment.
Funded by the Gulbenkian Foundation and delivered in partnership with Entelechy Arts, we worked with a group of older people, alongside film maker Edwin Mingard of Satellite films, poet Simon Mole and technologist Malcolm Buchanan-Dick. Together, we created a short film that draws parallels between isolation experienced by the elderly and living in space.
The film was commissioned by Channel 4 and Big Dance and broadcast as part of the Random Acts series in 2016.
STORY BOX CIRCUS
Upswing developed a 10-week long residency programme with Magic Me and Anchor called Story Box Circus, bringing circus to Silk Court Care Home in Bethnal Green. Circus artists, residents, their families and staff found new, playful ways to interact together – as opposed to simply delivering entertainment.
"Upswing are leaders in their field. Confident and skilled in, and committed to their own practice. They have the integrity not to dilute their artform for care home audiences." Susan Langford, Magic Me