A GROUNDBREAKING CIRCUS PROJECT THAT IGNITES CONNECTION, IMAGINATION AND CREATIVITY IN CARE HOMES
Homemade Circus is our two-year project that follows almost a decade of building circus skills for and with older people. To learn more about the different ways we've done this in the past, click here.
In 2023 Upswing's Lead Artist Charlene Low and a team of circus workshop leaders are working with staff and residents in a series of creative, multi-sensory circus workshops across UK care homes.
The activities we run help people find new talents and possibilities in themselves and each other. They help create trust, boost confidence, and improve abilities of both the residents and staff.
"It's just so much fun. I always say to people – I can do a 12 hour shift on that day because it just takes me somewhere else…It gives you that excitement, you have so much extra oxygen. So, so much creativity."
– Care Home Staff after a Homemade Circus activity day
We've collaborated with care teams and residents to ensure the circus activities we develop are flexible and adaptable – meeting the needs of everyone who takes part. This includes equipping care staff through intensive training, so that they have the skills and confidence to run their own circus sessions long after we've gone. To us, Homemade Circus as a long-term investment in care homes as unique, creative places, bringing playful practice and adventure into each setting.
If you're interested in trying these activities out in your own care home, we are creating a brand new activity website that guides you through the process from start to finish. To get updated when the Homemade Circus Digital Toolkit launches – sign up to our mailing list.
So what did we discover?
In the first year of running Homemade Circus we trained over 50 care home staff to deliver interactive circus activities to over 130 residents. We followed each step closely so that we could see what was working, here's what we learnt: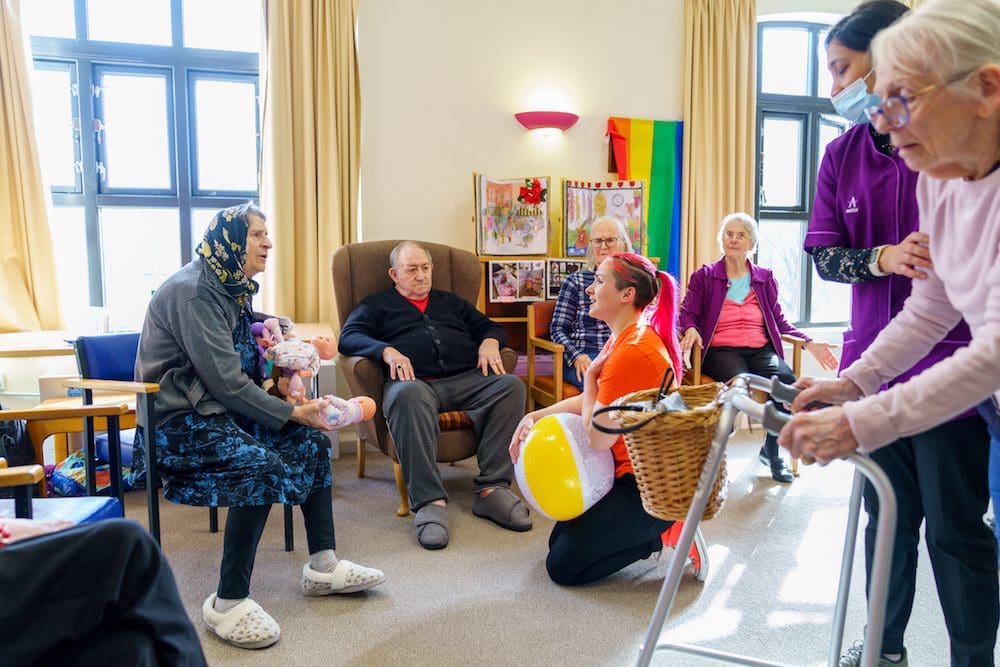 The training itself was a teambuilding experience. Both staff and residents found that learning together through play and practice really valuable. As one staff member told us, "It was freeing trying activities ourselves, messing up, cheering each other on, and trying again."
This gave people who worked in the care homes a better outlook on these kinds of programmes, and changed perceptions of what 'circus' is too.
Through the activities, residents bonded over achieving more than they thought they could."I liked how everyone was in it together. I liked doing the activities with other people I've seen around before. We were all doing the same thing together as if we'd been doing it forever.", commented one resident. Not only are people bonding more, but balance, coordination and movement have improved.
To read more about our learnings, you can download the evaluation report from Year 1 below:
Partners
Homemade Circus is made in partnership with Anchor Hanover Care Homes, Excelcare Homes and Agin Care. Funded by City Bridge Trust and The Rayne Foundation.