A handbook using circus skills as the basis to help you and the people you support to keep active and creative.
This guide was created by Upswing as an adaptation from our in-person work with older people. Designed to be used in any setting, but particularly geared towards those working with older people who want to develop and grow the work that they are doing with the people that they support, e.g. staff working in care homes, dementia cafes, day centres and home care.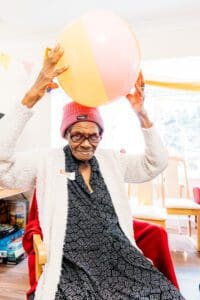 It includes simple circus skills that can be done solo or together, inside or outside and with minimal equipment. The activities in this handbook can be a great way to stay mobile and mentally active. They can be done seated, and as your confidence and skills improve – and if you feel like it – you can develop your skills standing up.
You can download the guide by clicking the button below.
It is printer-ready (A4 paper size) so you can also print it at home and take it to a family member or person in your care to try the activities together.