We bring Upswing's skilled professional artists into schools and colleges to teach circus skills and foster creativity.
Our teaching covers a range of forms, from modules for degree level and senior students, to summer schools and one-off workshops, to insightful sessions that support the curriculum by developing confidence and communication skills.
With a vision to train the next generation of imaginative and diverse circus artists, Upswing encourages students to think creatively and originally. Our coaching pushes the art form into new areas, allowing it to complement vocational and academic studies.
If you've seen an Upswing show that you, or your students, love there are opportunities to participate in accompanying activities and even visit the company in rehearsal with your class.
Residencies for young people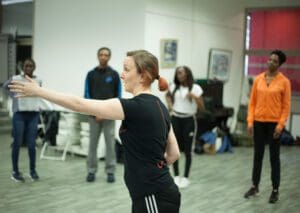 Upswing deliver customised residencies for schools, colleges, academies and venues that range from three days to two weeks for children and young people.
In sustained workshop environments, students work intensively with one of our experienced practitioners, learning skills like aerial hoop, bungee dance and acrobatics. The professional team ensure that the experience is safe, structured and fun, providing a special opportunity for participants to get creative and stretch their wings.
Together, the group devises a short act which showcases their newfound skills – providing an unparalleled sense of achievement and satisfaction.
To find out more about our bespoke learning programmes, resources for teachers and how to include circus in your lessons contact info@upswing.org.uk
ARTS AWARD
Upswing are proud supporters of Arts Award. This accredited framework is designed to help under 25's develop as future artists and arts leaders. By setting participants structured challenges in the art form of their choice, young people are able to gain nationally recognised qualifications, which aid further education and employment.
Upswing's workshops can contribute to Arts Award Discover or Arts Award Explore schemes. Young volunteers can work towards their Arts Award Bronze through training opportunities at Upswing.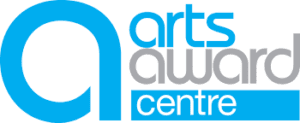 TESTIMONIES
"The students are still on a high from the project – a huge success. It was fantastic to see the way you pulled the group together and developed such a good rapport in a short space of time."
Ian Horgan, Senior Assistant Headteacher, Shenley Academy
"The masterclass was a fantastic opportunity for our BTEC students to experience an exciting medium that combines dance, circus skills, choreography and fitness. The students really enjoyed the sessions and much of what they learned can now be used in their future performances."
Charlotte Woods, Dance Lecturer, Richmond Upon Thames College
"Upswing is a fantastic company to be involved with and their education work is first class. I would definitely recommend the company to other educational establishments."
Robert Nicholson, Teacher of Dance, New Vic College
"Upswing really brought the group together to work as an ensemble and create something amazing. They brought out the best in them and allowed them to lead the direction of the performance they were making, while developing their eye for what works."
Gemma Rowan, Associate Producer, The Albany
PAST PARTNERSHIPS
Buckinghamshire New University, Richmond Upon Thames College, Rose Bruford College, St Paul's School, Haringey Sixth Form Centre, University of Hertfordshire, WAC Arts, Virtual School for Children, New Vic College, National Centre for Circus Arts National Centre for Circus Arts, The Albany Deptford, Shenley Academy