Joana
"One of the brilliant aspects about Upswing is their mission of welcoming audiences and artists from all ethnic backgrounds in their process. This has been empowering my practice and life in the UK. Having the honour to have Vicki Dela as my mentor/director and Camille as collaborator impacted hugely in my growth as a Black female artist and creator. They are family to me." – Joana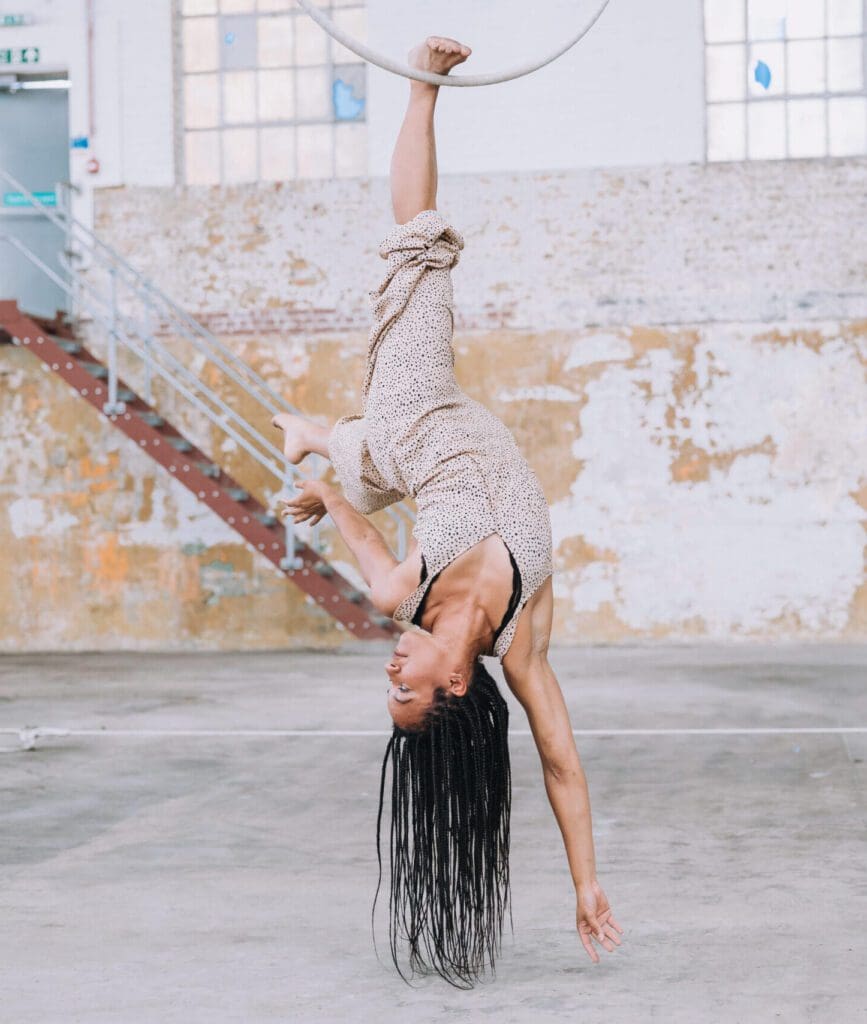 Joana is a Portuguese aerial hoop artist and acrobatic flyer who has lived in the UK for the past decade. Singing, dancing and performing from a young age led her to perform in Portuguese TV programmes, National Ballroom dancing competitions and Musical Theatre. She studied at Chapitô, prep circus school in Lisbon and graduated from National Centre for Circus Arts in London.
Having toured internationally as a performer/deviser, Joana has also worked for NPOs such as Upswing (since 2014) and Mimbre, as well as contemporary circus companies like Cirque Bijou, Barely Methodical Troupe, Silver Lining, Imagineer Productions, Cirkus Cirkör. She has also performed in cabarets, cruise shows and corporate events.
Joana is currently developing her first solo show '89', with Upswing as an associate and Vicki Dela as director and mentor for the piece.
"As a creator I was always intrigued by the beauty, rawness and mobility of a body suspended in the air; the various possibilities of illuminating experiences with movement in relation to an apparatus, and the connection between body language, text and sound. In the toughest times of my life, creating was always my refuge and the place I called home. I realised early in my career that I longed to make an impact in the world and in the arts starting by amplifying my artistic voice as an Afro-European woman and artist so I could inspire others to do the same." – Joana
Her work with Upswing continues to develop inclusive storytelling and practice in order to establish contemporary circus as an artform that represents equity and innovation.
Joana is in the process of working as an artist with new international circus companies but also developing her creative skills so that she can move into directing in the future.
To find out more about Joana, visit her instagram page
Learn more about our artist mentoring opportunities here.