High above our heads an epic story about coventry unfolds, brick by brick.
Inspired by Coventry's architectural evolution, HOME is a collaboration with Highly Sprung, that celebrates our understanding of how home is what we build around us… our heritage and our future – featuring a cast of Coventry locals.
Coventry, a place rich in history, legend and architecture. An industrial powerhouse blighted by austerity and recession. A city defined by the people who make it home.
Throwing new light onto old and daring to dream of exciting times to come, Home tells the story of the Coventry's past, present and future through sky-scraping aerial dance, music and digital projection, performed by a highly talented community cast
trailer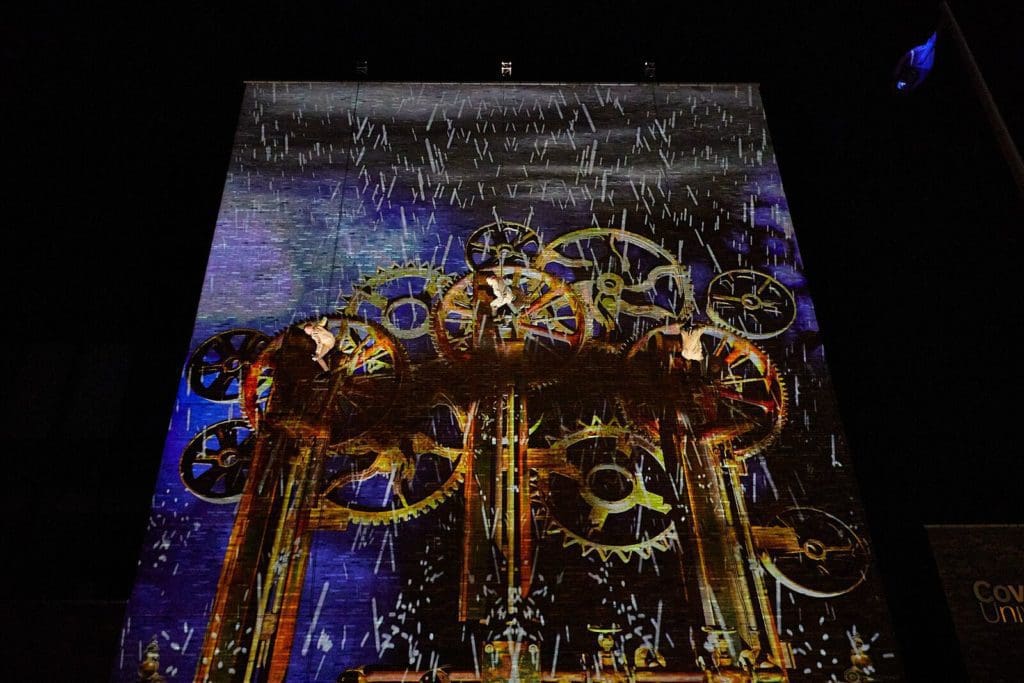 "Thank you for all your dedication and commitment to HOME. You have been an inspiration and a guide through these rocky waters!" Sarah and Mark Worth, Artistic Directors, Highly Sprung
"I thought it was absolutely wonderful – Coventry hasn't seen anything like it before and that is really exciting as we build towards UK City of Culture in 2021." Councillor Linda Bigham, the Lord Mayor of Coventry
"Upswing are a quality organisation that can turn seeds of artistic ideas into flourishing flowers, ensuring practical and technical perspectives are kept in consideration from the offset. I hope I get the chance to collaborate with Upswing again something equally as challenging and dynamic." Phil Hargreaves, Producer, HOME
"Amazing-message of inclusion, working class solidarity, multiculturalism." Audience member
cast and creative
Writer Mark Worth

Director Sarah Worth, Mark Worth
Aerial Direction and Choreography Vicki Dela Amedume
Producer Phil Hargreaves