Catch Me is an intimate and surprising take on age, race and gender.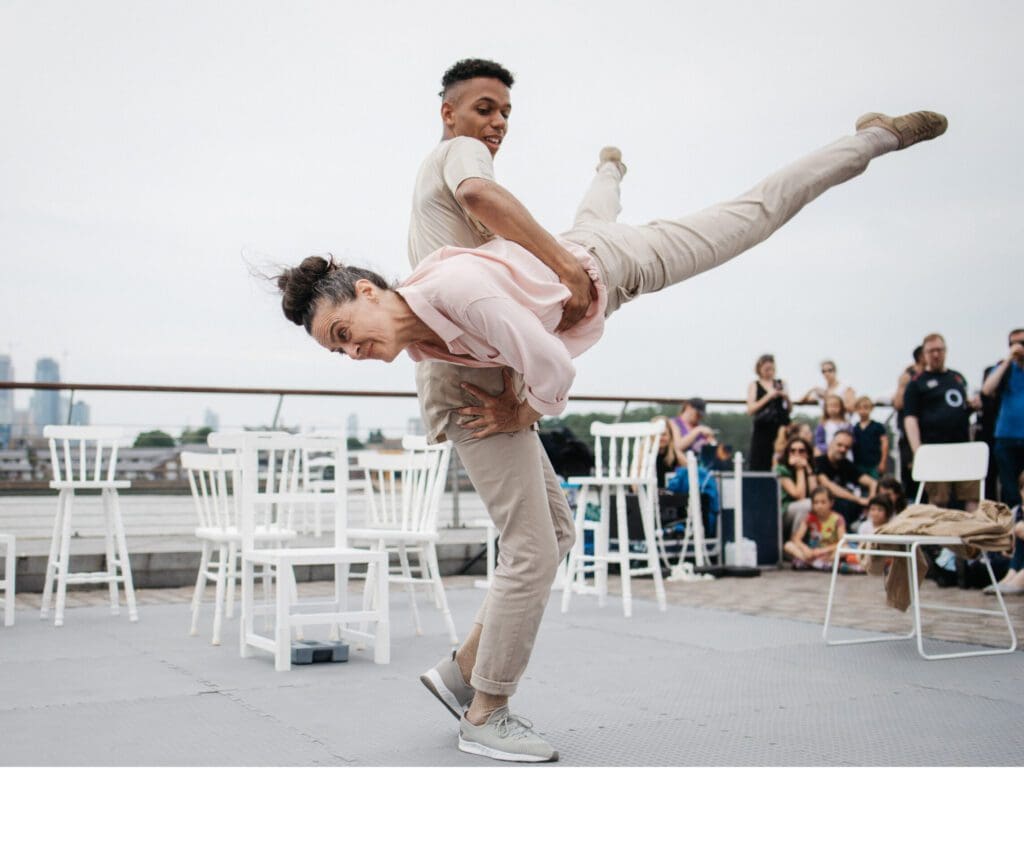 An older woman and younger man dance together through a landscape of abandoned chairs, discovering joy, risk and unexpected connections in a poignant duet.
Part installation and part performance, Catch Me asks how we see each other and who we value.
Join Upswing for a poetic mix of dance, acrobatics and companionship. Re-imaged in 2020 to be performed at a distance in public spaces, for the entire family
reviews
"A beautiful and poignant exploration of relationships and human potential…It really challenged perceptions for circus and physical theatre and was a perfect fit for the Festival." Rachel Nelkin, Head of Creative Programmes, The Albany, Deptford
"Their connection was electric and their perfect balance of weight and stacking of gravity allowed an effortless performance…eclectic mix of beauty through generations." Review Number 9
"Consistently engaging. Age in the mind. The imagination accepting, rejecting, creating. Encompassing the entrenched and the totally free." Audience member, Age Against the Machine Festival, Deptford
trailer
Previous Touring
Kensington and Chelsea Festival, bOing! Festival, Circus In The City, Refract Festival, Dance Reading Digital, Greenwich + Docklands International Festival, Inside Out Festival, Merchant City Festival, Newham Unlocked Digital Festival, Age Against the Machine Festival, Windrush Day at Bernie Grant Arts Centre, The Lowry, Stockton International Riverside Festival, Freedom Festival, Norfolk & Norwich Festival, Brighton Festival
Streamed at
Newham Unlocked Festival, Dance Reading Festival
Partners
Catch Me is supported by Without Walls, Jacksons Lane, Dèda and Arts Council England. Commissioned by Norfolk & Norwich Festival and Festival of Creative Ageing. Produced at 101 Creation Space.
Socially Distanced Catch Me (2020) made in association with The Albany and commissioned by Certain Blacks/London Borough of Newham.