Showcasing and celebrating the incredible freelance artists that Upswing has worked with: Discover what they've been up to and learn more about how you can get involved with their work here…
Joana Dias
Joana has collaborated with Upswing on many projects over the years – such as starring in our Bedtime Stories show and taking part in our Circus Circus Circus residency, which she used to develop her first solo show 89. Now, Joana is taking 89 into it's final stage of production with support from Upswing's Artistic Director Vicki Amedume. Read on to hear from Joana and find out more about the ideas behind the piece and it's next steps…
"This lockdown has been a complex time but I also can say it has been a blessing. I'm very grateful for the opportunities that were given to me in order to start creating my dream show and connecting deeper with who I am as an artist and human.

89 is my first Solo show as creator and performer. It means to me starting from the very true beginning. The work began with a movement research in 2016 for the Postcards Festival at Jackson's Lane. I created a 8 min solo piece combining singing, aerial hoop and ballroom movement working with the choreographer Julian Bulku.

In 2018, 89 was selected for a two week artist development residency at 101 Creation Centre, curated by Upswing & Certain Blacks.

In 2019, me and Vicki Amedume collaborated and created a short piece for the showcase night Circus Circus Circus Festival at Hoxton Hall. This event was curated by Certain Blacks. At the end of 2019, Upswing became confirmed as associated collaborator of 89 and Fae Fichtner as my producer.
In 2020, the team expanded, the piece was successfully selected for the residency support by Proteus Creation Space in Basingstoke, the NCCA & Jerwood bursary for emerging circus artists and Arts Council England funding. We have been on and off R&D from October 2020 till March this year. We're currently sourcing residency spaces and further supporters for the final production phase of the work.
With the help of aerial, movement, object manipulation, and voice the show aims to describe the turmoil of fragmented ideas transitioning in the mind from moment to moment. The choreography will be inspired by the inevitable impact of trauma on memory creating a rhythmical relationship between body and text.
89
will celebrate Portuguese and Angolan culture, rediscover and reclaim an identity that was taken. It is an invitation to travel in time and seek completeness and connection. It is a story of female empowerment, the strength of mother-daughter relations and the never ending journey we're all on when it comes to discovering our own identity."
89
is a multicultural autobiographical solo show containing aerial hoop, dance, original song and sound design. Inspired by recorded conversations between Joana and her Portuguese mother about the disappearance of her Angolan father in 1989, the piece will take the audience on an empowering journey of a mixed-race woman reclaiming her own identity. The Portuguese colonisation and the Angolan civil war were events that shaped Joana and her families' identity as well as many mixed-race women of her generation growing up in post-colonial Portugal.
89
is created & performed by Joana Dias, supported by Vicki Amedume, composed by Finn Anderson, written by Nuna and produced by Fae Fitchner. It is supported by Upswing, Jerwood Arts, National Centre for Circus Arts, Proteus Creation Space and funded by Arts Council England.
If you like the idea of 89 and Joana and her team's work and want to support them, you can get in touch with the show's producer, Fae. You can also support Joana and keep up to date with the project by following her social's!


Sascha Goslin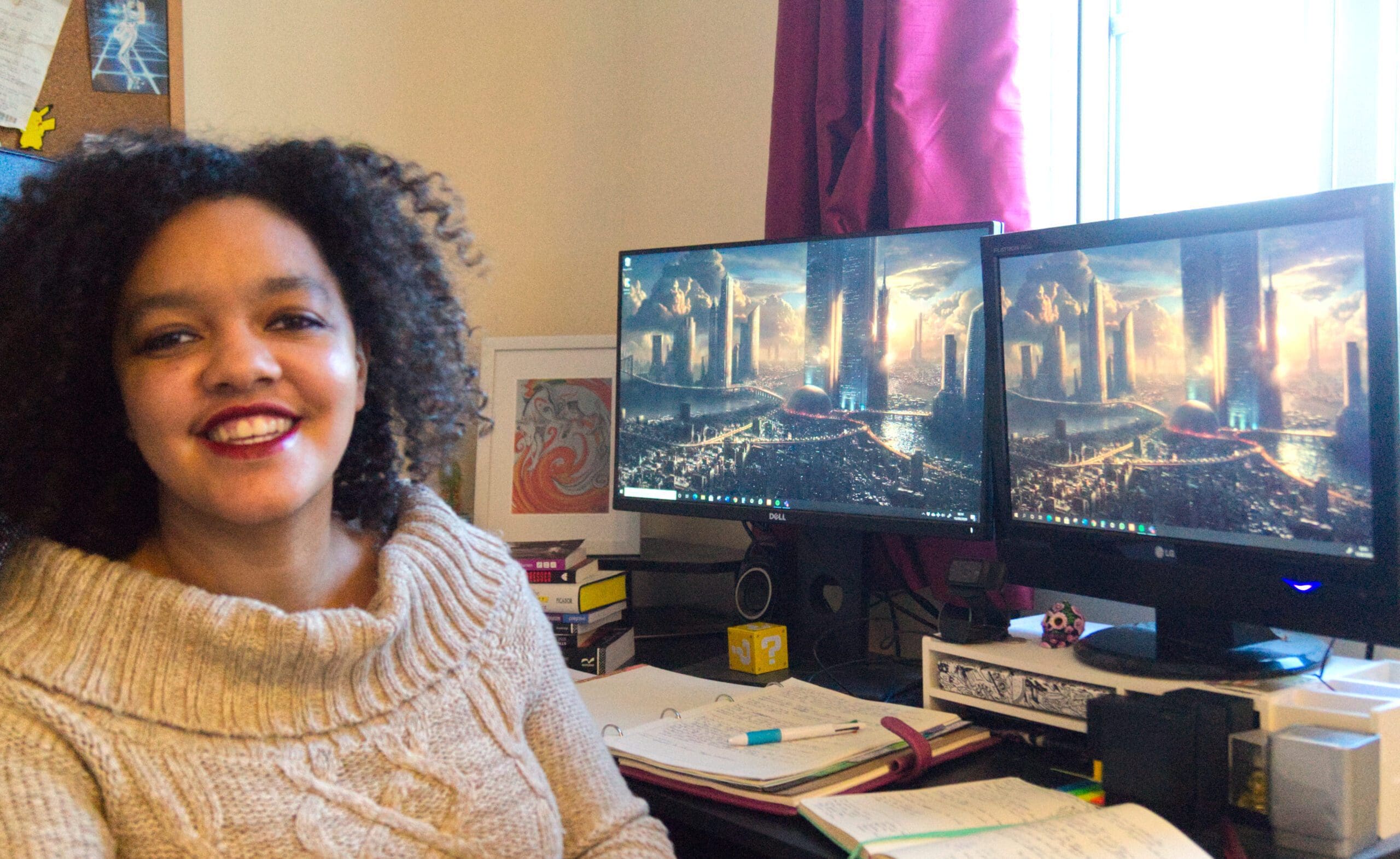 Sascha is a freelance producer focusing on circus, outdoor arts, accessible theatre and puppetry. She recently launched a network to support black and POC creatives, has been working alongside our Artistic Director Vicki to co-convene the Inclusion & Diversity Working Group for Circus Change Up, and is now expanding into devising and creating her own shows – Find out more here!
"Lockdown, weirdly, provided a wonderful opportunity for me to develop as a creative producer and an artist. I've had the opportunity to really think about and consider what I want to do with my career going forward, for instance, with the support of Norfolk & Norwich Festival I've launched the Norfolk Black & POC Creative's Network (we'll find a snappier name soon) to connect with and support other local POC artists. Lockdown and everything going online has also given me plenty of opportunity to undertake workshops in mime and clown and more to really help develop my skills as a performer and creative.


At the moment I'm in the process of an R&D to create an outdoor multi-sensory puppet show designed for audiences with profound and multiple learning disabilities. I've worked on various shows by other people, but this is the first time I am the main creative, which is exciting. It's being supported by Frozen Light, Hocus Pocus Theatre, Judith Hope and Norwich Puppet Theatre.
Right now I'm mostly experimenting with building puppets that are also multi-sensory props, so learning a lot about mechanisms, which glues work with which materials, and which to avoid because they either won't stick or will melt the material, as well as how to make things with LEDs. The next phase will be devising the show. I'm hoping the show will be ready to preview in 2022 and tour in 2023.
Outside of over the past year I've been working with Aim To Fly UK, on their film Our Flight Through Lockdown, with The Why Not Institute to help develop a way to bring their workshops online effectively and helping with The Why Not Cafe, and with Circus Change Up, co-convening the Inclusion & Diversity Working Group with Vicki.

If anyone wants to contact me they're very welcome to. I'm always happy to talk to anyone about circus, outdoor work, puppetry, clown and accessible theatre. If anyone would like to know more about my projects or would like to be involved in some way then please email me!"
Sascha's brand new website is almost ready to share – when it goes live we'll update you! In the meantime:


Amelia Cavallo / King Tito Bone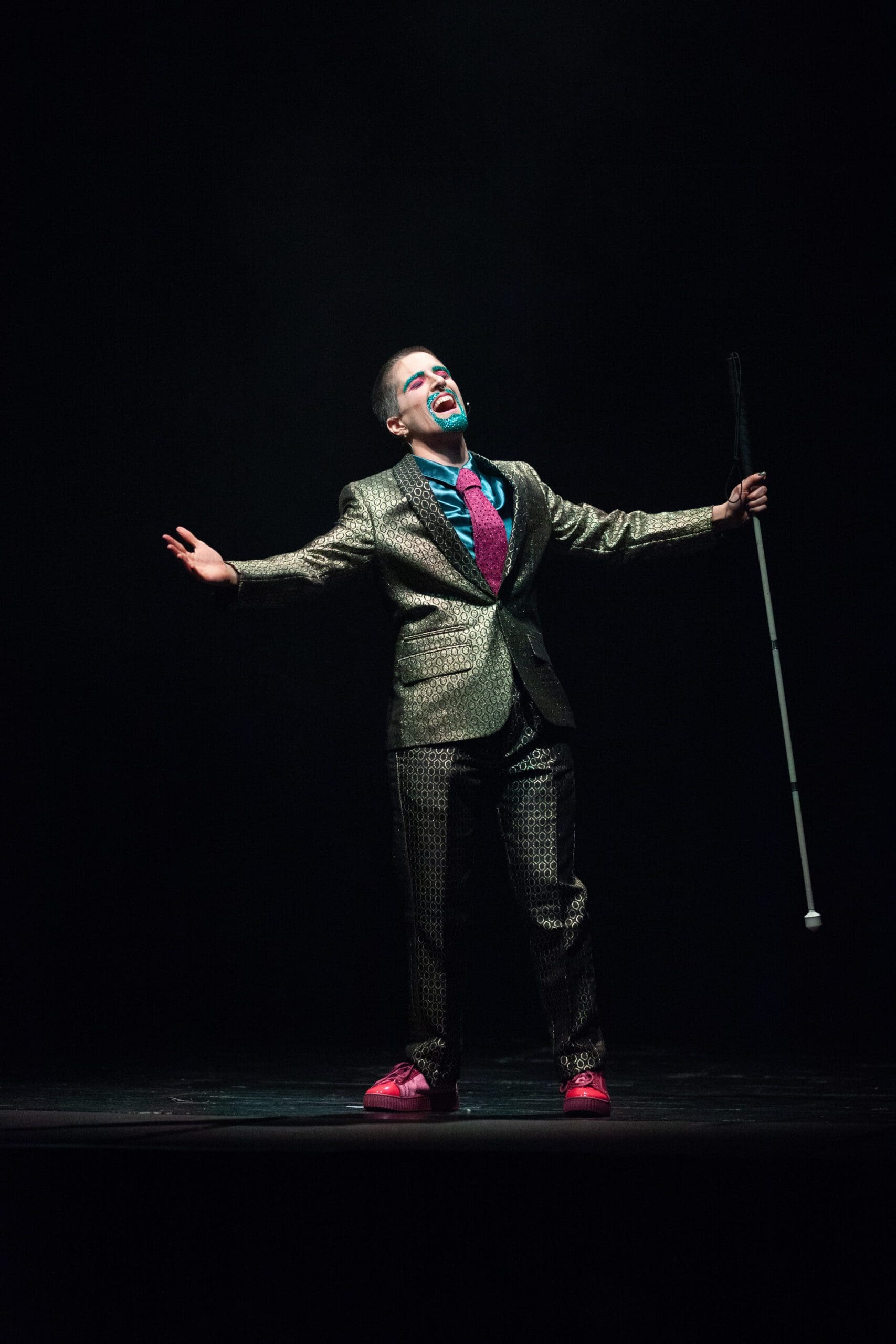 Amelia has collaborated with us on Extant and Yellow Earth's stage-to-immersive digital show Flight Paths, delighted us by transforming into King Tito Bone for our 2019 Circus Circus Circus production, and taught us in their online Audio Description/Alt Text workshop series. Amelia continues to create, co-found and put out incredible projects, read on to find out what's next!
"I am normally an aerialist, but have had extremely limited ability to train since the pandemic hit last year. As such, while working from home I've been focusing on other aspects of my practice – including my drag character Tito Bone – your average, blind, non-binary, bisexual drag king, who just wants you to smell the world through their nose, you know?
Tito's latest goal is to become a "burlesque clown" for a film called Rose La Rose that I have been developing remotely with some wonderful practitioners based in Germany. The full film will be released soon and will include integrated audio description in German and English."
Follow Amelia's Instagram accounts below to catch more information on the release of Rose la Rose!
Amelia is also the co-founder of Quiplash – an accessible and empowering space for performers in the LGBTQQIA+ and Queer communities, in which they: consult, run workshops, run training and make performances. Follow the links below to learn more!
Sadiq Sadiq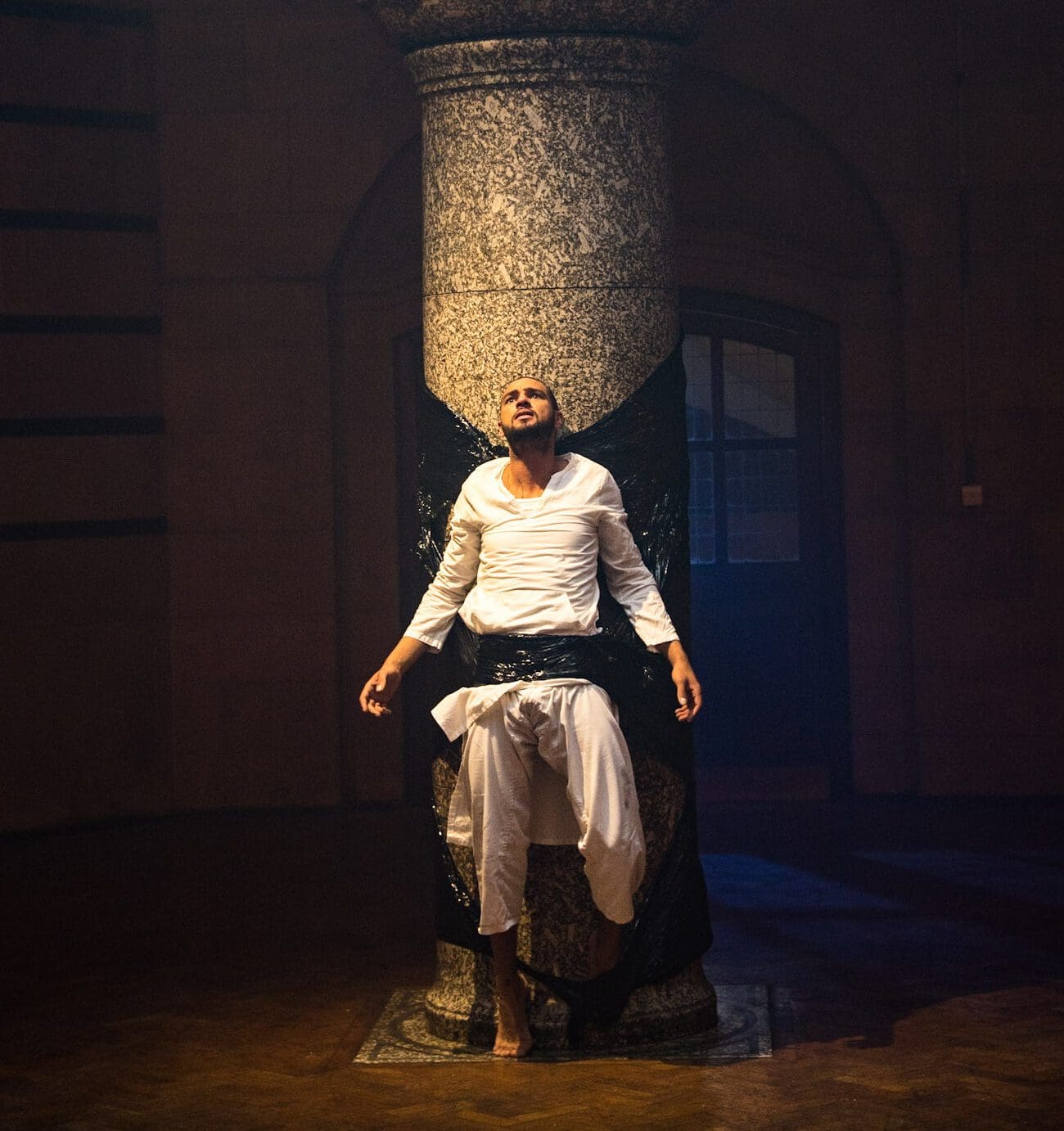 We were thrilled to host an extract of Sadiq's The Chosen Haram at our 2019 mixed-bill show Circus Circus Circus. Since then, Sadiq has transformed the show into a short film, and is now working to bring it back to the stage:
"As an artist, last year meant adapting your practice and your vision to the world we found ourselves in. Without stages to share stories I decided to take an idea I was working on for theatre and create a short film with it. This is the result.
A cross between circus and narrative film The Chosen Haram explores a queer relationship within the structures of faith, sexuality and addiction. This experimentation means that the idea is still growing and adapting and I can't wait to share the live version to audiences when we can! "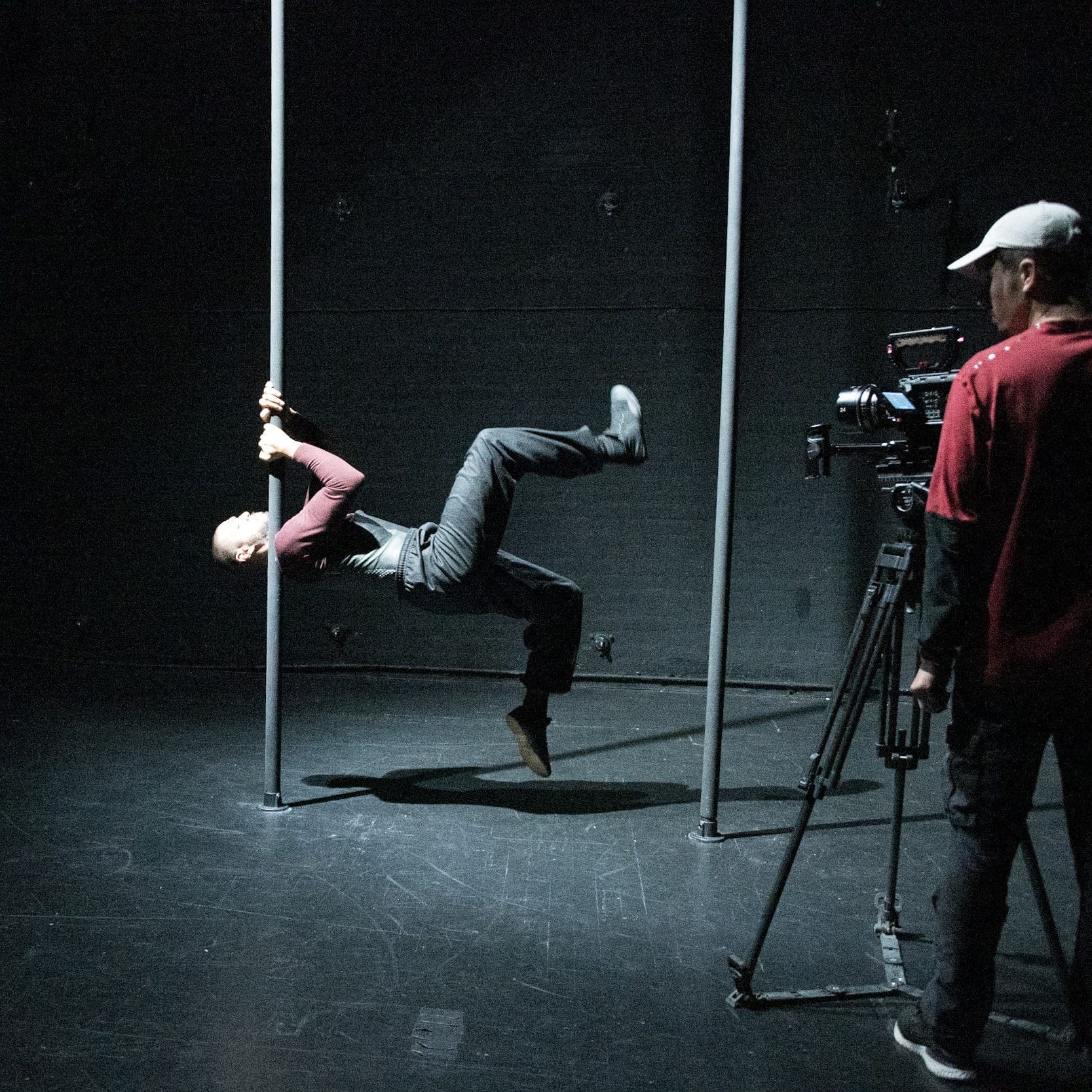 Learn more about Sadiq's process with The Chosen Haram:
We invited Sadiq to discuss his creative process with the piece at our Slow Thinking Session 6. You can watch that here.
This great article by Sadiq for Dalston Superstore gives an insightful look into his journey with the piece and where his ideas stemmed from.
If you know of a creation space that Sadiq can develop ideas for the stage show of The Chosen Haram in, or have (physical or digital) space that would like to host the full length film, get in touch!
Symoné
We followed Symoné's journey with her piece, Utopian, throughout our 2018-2019 residency and stage show – Circus Circus Circus with Certain Blacks. Now she is developing that same piece into a theatre production, alongside much, much more! Take a glimpse into her world: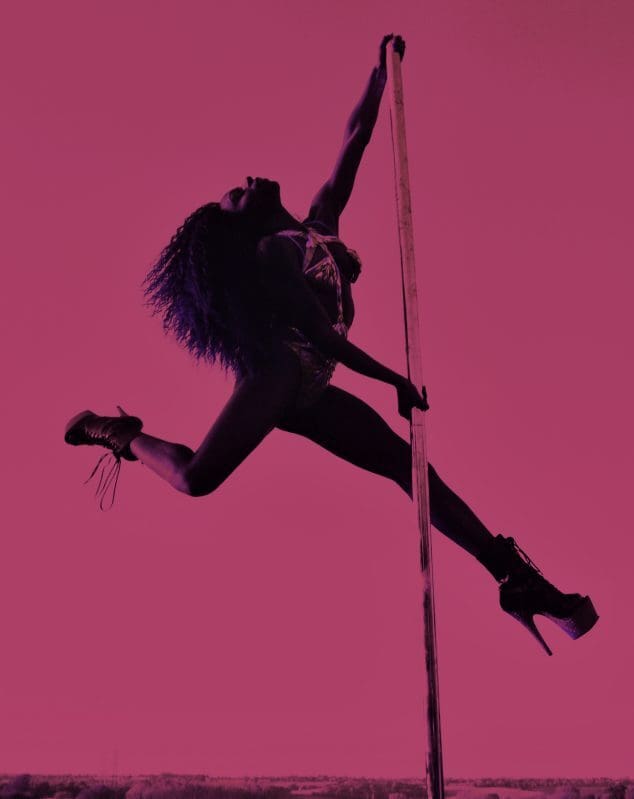 "Lockdown has taught me to enjoy slowness and helped me to understand more of who I am as an artist and what I like to work on. I've been more aware of my own authenticity, what I love to explore in my work and staying true to who I am in my art. The first start of lockdown I was actually excited by slowing down my work and being on stage. I was exhausted and understood then that as an introvert whose job is very extroverted, I was overdue the time to rest.
The past 10 months I have spent my time expanding my current practices with hula hoops, roller skating, pole dancing, and voguing. I have delved more into other practices, particularly writing, sound design and video editing, which I continue to learn. Apart from that, I've learned that play is a huge part of how I like to make work, and sometimes relaxing, dancing in the shower, watching a film and playing a video game will naturally inspire my work in some form without me needing to be consciously aware. Or, it might not and that's also important.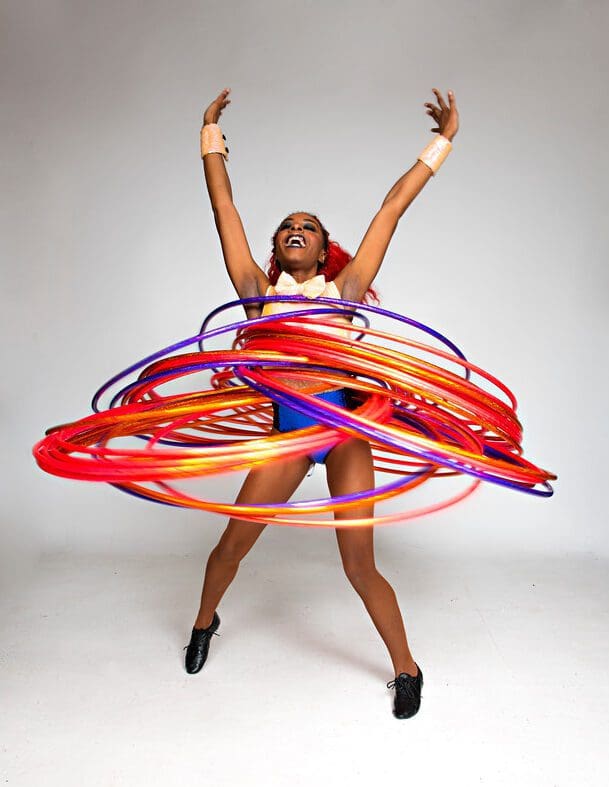 Over the past year I've been working on my live art theatre production, UTOPIAN (t&c's apply), supported by Arts Council England, The Place, Cambridge Junction, and Buzzcut. Upswing was a part of the very babysteps of this project 2 years ago alongside Certain Blacks, and I'm so happy to say it finally the show has some legs! I have been fortunate to work with an amazing team of directors, dramaturges and artists during this period.
I have been able to do the things I have held in the back of my head, things I've "always wanted to do". I've been working with The Feathers of the Daedalus Circus on a new circus drag king show. For 4 years now I've craved creating a drag king character and he is finally coming to life through this show. At some point in the near or far future I look forward to performing with The Feathers of the Daedalus Circus and my own show UTOPIAN (t&c's apply) on stage.
My latest news is that I have spent time working with Instagram to celebrate US Black History month, we collaborated on a project together where I had the opportunity to share what I do and why it brings so much fruition in my life. The interview was
posted on their Editorial page
and has over 2 million views so far.
I also will be working with ARC Stockton as one of the
Artists of Change.
This opportunity is immensely exciting for me right now, an opportunity to help make change in the theatre/performance sector with a company that is open to disrupt hierarchy in the arts. My time with ARC Stockton the next year will be spent working with their community, supporting POC and LGBTQI+ artists, and expanding my own artistic practice.
Despite lockdown, I'm staying active, physically, mentally, and creatively. I've had some cool things happen over the past year, but I'm leaning away from old habits of "hustle culture" and just saying 'no' more, prioritising my health and wellbeing. My balance between my personal time and time with friends and family vs. work has shifted and I've created a circle of good people that check in and care for each other."
Symoné keeps us up to date on her social media, as well as an exclusive Newsletter that comes out every 2-3 months with projects, performances and call-outs. Find links to those below, as well as her website where you can get more info on current work and online hoop coaching opportunities!
Mike Corr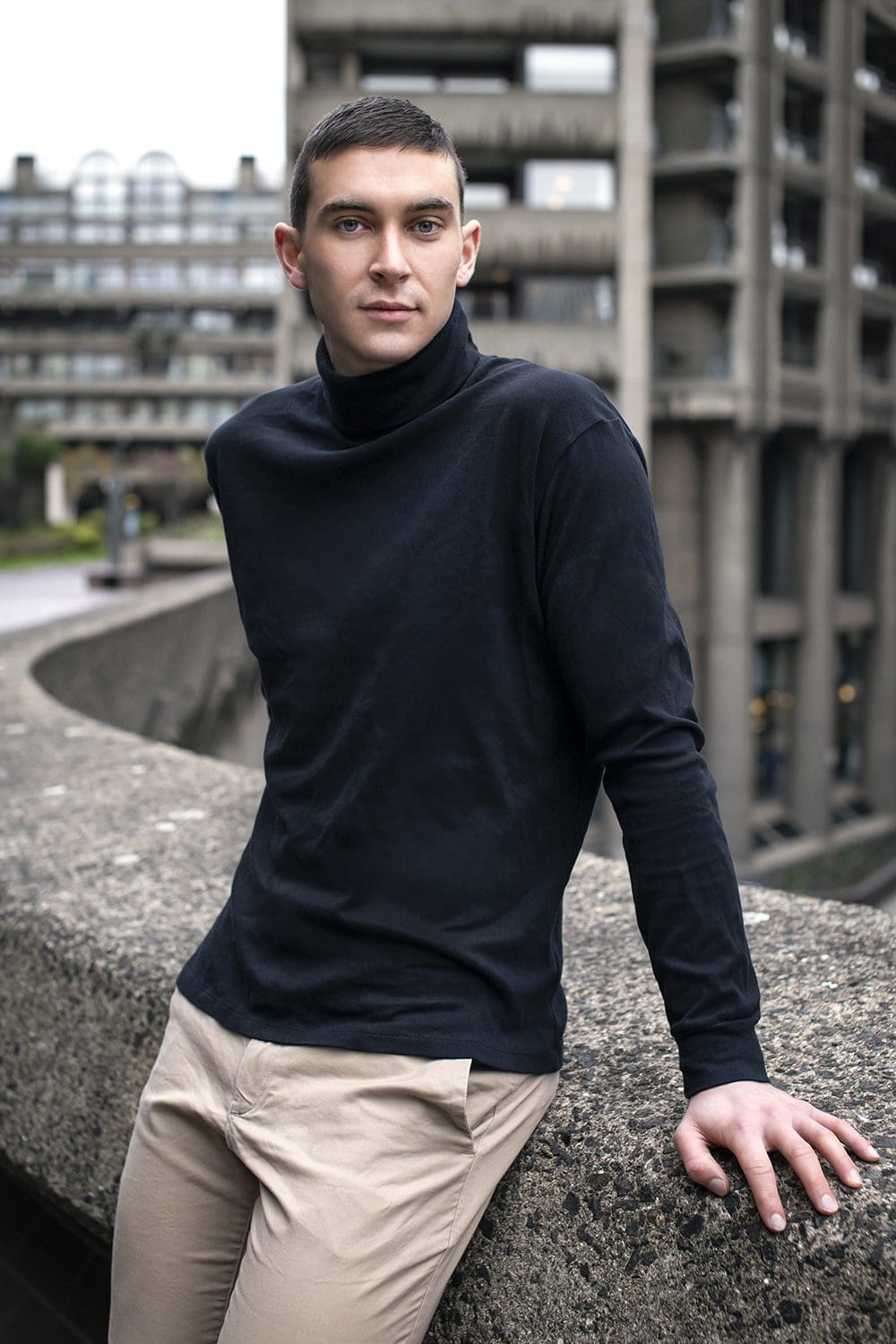 Mike has worked alongside Upswing as a freelance circus artist on some of our leading projects, like Bedtime Stories and our Circus Flavours events. Hear about his incredible feats over lockdown, and check out his Youtube channel below!
"Last year I have mainly been working on growing my youtube channel. I have made over 6 hours of juggling and circus tutorials with lots of circus training films and sketches.
I've kept up my training and adapted to the lockdowns, doing yoga daily for the past 6 months. I also started running and completed my first half marathon & lost a total of 10kg since march.
I also managed to get a quick photoshoot in!"
Mike shares all of his circus know-how over on his Youtube channel, from 'How To Tornado Kick' and 'How To Juggle', to 'How To Progress Faster & Learn Skills More Efficiently' – and he uploads a new video each week!


Zaki Musa
Back in 2020 Zaki took us up on a free 'Support Surgery', offered by Upswing in order to help circus artists develop their ideas. He's been kind enough to share his journey throughout 2020, and his next steps as a freelance creative: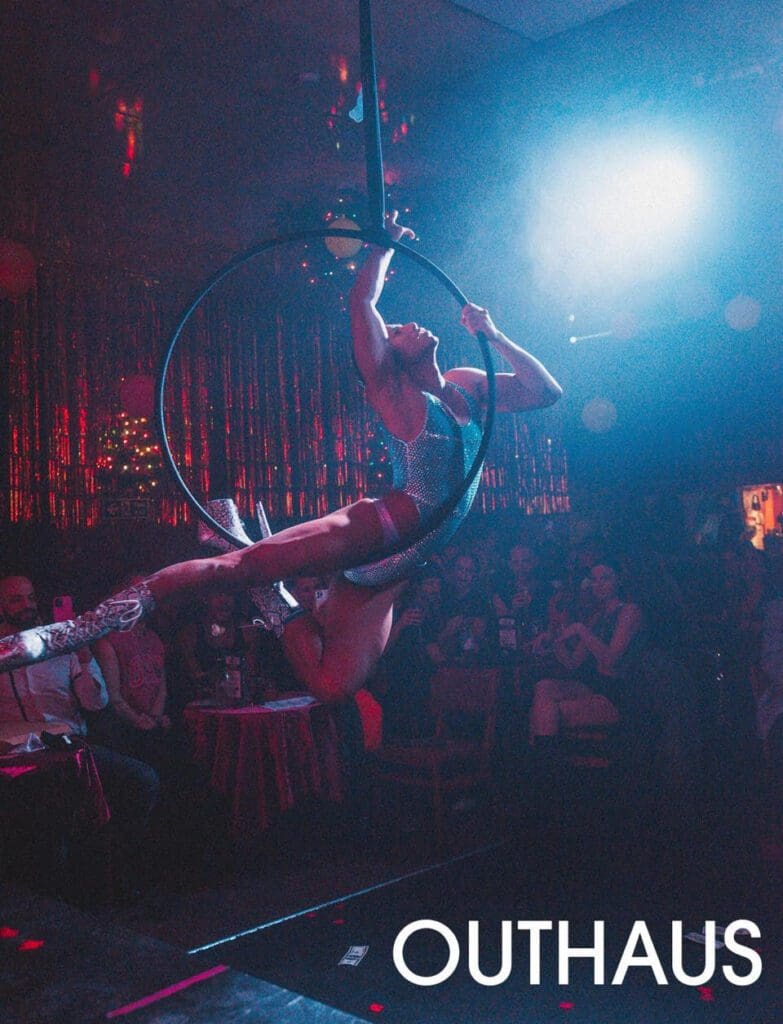 "As with everyone during lockdown, I honestly felt directionless. I wanted to figure out who I was as an 'artist' so I could pitch myself to the right people

I came into the Support Surgery with a different set of questions, but left with better answers. Vicki [Amedume, Upswing's Artistic Director] was very focused and gave me clear advice on a multitude of things, from funding, to my personal creative practice and understanding myself, and also where my "tribe" was. It forced me to think about what I had to offer as an aerialist, and what was unique/special to me.
Based off our conversations, I honed in on where the work was, what the acts looked like, and how I could deliver my own flavour and style – staying true to myself as a performer and artist, whilst fitting the theme/brief of what cabaret places are looking for.

Because of the Black Lives Matter movement, I've been questioning my identity and ambiguity, I'm not white, black or identifiably brown (ie south asian), and so it was also about me finding where I stood in a sea of performers as I couldn't find anyone who looked like me, or did what I did – there was no clear path to follow.
I kept trying new ways of presenting myself as a performer during lockdown and, after the first lockdown, I definitely found a way of presenting that was niche to the queer cabaret scene. I spent time developing a floor/chair act as well, and worked to offer myself as a "boylesque" artist, working with the Raze Collective, Cocoa Butter Club digitally, Mariah & Friendz & Outhaus at Bethnal Green Working Men's Club, Bitten Peach at the Bridge Theatre, and other gigs.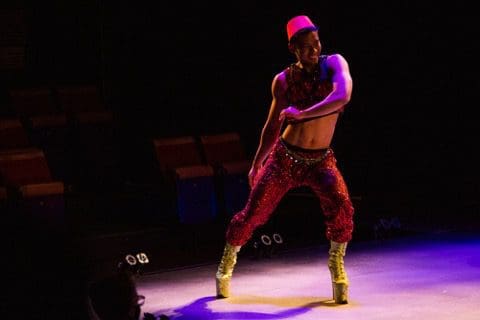 That being said, whilst it's been surprisingly busy, it's definitely been a push and a hustle as all the rates have been cut across the board, due to the coronavirus and seating.

I've definitely worked on establishing myself in the cabaret scene, but for 2021, I'd love to hone in on my voice and want to explore deeper themes surrounding performative masculinity in circus, and the pressure of fitting/ not fitting into a mould. I like the idea of playing with traditional tropes of what masculinity looks like in circus. The session really stayed with me as I try to find the balance of creative vs commercial."
Zaki also created his own website over lockdown and is helping other creatives to set up sites that showcase their work, you can find out more about how to work with him, his online workshop series, and his recent projects here: