CONSULTANCY AND COLLABORATION
At Upswing we are passionate about helping other companies use circus to tell their stories. Our shows often cross boundaries with theatre, music, film and dance, and collaboration with artists from these sectors makes that possible.
From individual training to full stage direction to equipment design, Upswing has a wealth of experience in bringing circus elements alive in a safe and professional manner.
We can support your production with technical advice, bespoke rigging, casting, training, providing artists and creating acts, or add a skilled circus consultant, choreographer or movement director to your creative team.
"Upswing taught us to fly. In a theatre in the round, that's no mean feat. And when your heart's in your mouth due to the dangerous things you're asking people to do, there's no one better to have by your side than a calm, open-minded, thoughtful collaborator who knows exactly how to bring your wild vision to life." Theresa Heskins, Artistic Director, New Vic Theatre
To find out how you can get involved, contact camille@upswing.org.uk
---
RECENT PROJECTS
Yellow Earth and Extant
Flight Paths
Movement and Aerial Choreography
Inspired by blind itinerant performers called Biwa Hoshi from medieval Japan, Flight Paths showcases the incredible skills of four visually impaired artists as they explore stories of migration to the UK, both physically and verbally.
"Through the aerial and movement work by Victoria Amedume we get another dramatic tone that literally lifts us up into another world. Flight Paths is a moving work of theatre art that keeps on resonating long after the final departure of the performers." East Midlands Theatre
"For those blind or partially sighted, this aims to offer a richer than usual experience. In doing so, it also gives the whole audience an unusual and entertaining presentation of international talent." British Theatre Guide
---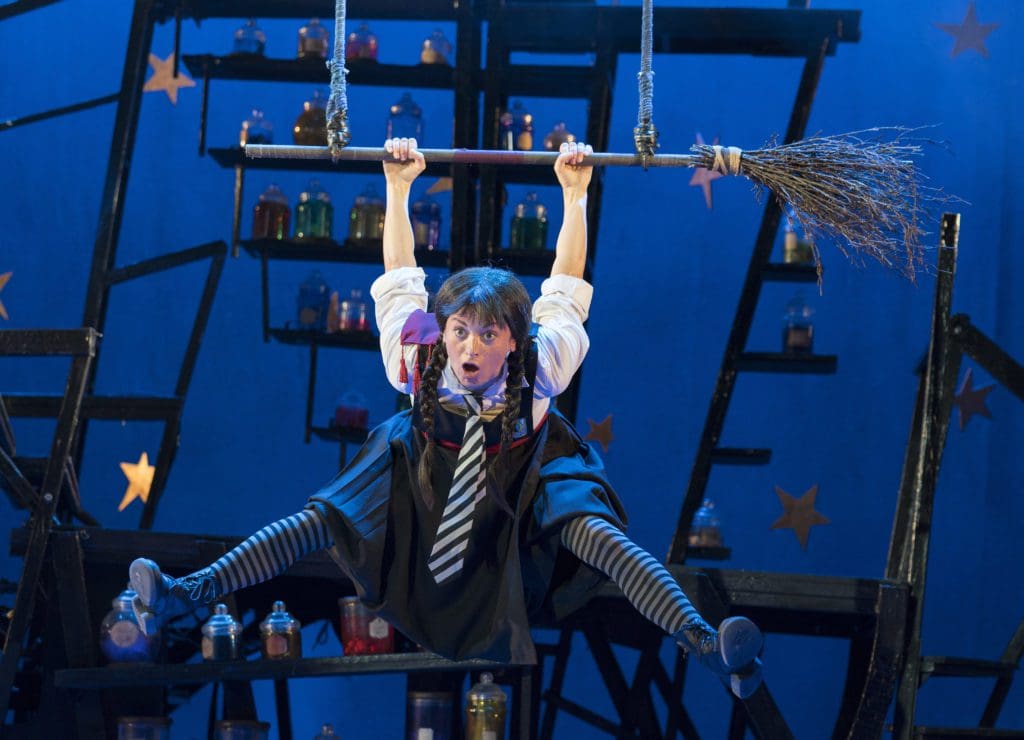 Royal and Derngate and Kenny Wax Productions
Worst Witch
Circus Direction
"…A superb aerial sequence has Maud and Mildred dangling from trapeze-like broomsticks and clinging to a hula-hoop moon" The Guardian
"..There are many stand out scenes to look forward to, for example the acrobatic scene with flying brooms and trapeze hoops" Onstage Northants
"…There is no greater example than the spectacular, funny and downright brilliant scene in which Mildred and Maud find themselves high above the stage battling to stay on their brooms." The Northants Telegraph
---
New Vic Theatre
Astley's Astounding Adventures 
Co-Direction, Actor Training, Choreography and Direction of Circus Sequences
"More than skilful, this is also dramatically effective, especially in the falling-in-love duet between Nicholas Richardson's Astley and Danielle Bird (as Patty Jones), a daringly executed, deeply moving aerial act performed between two long red silks flowing from the flies." The Observer
"…the first act builds to a pacy and excitable climax, culminating in a confident aerial silk routine for him and soon-to-be wife Patty… It demonstrates just how eloquently
and poignantly circus can communicate notions of intimacy and trust." The Stage
---
PREVIOUS PROJECTS
Cameron Mackintosh Productions and Chichester Festival Theatre
Barnum
Circus Consultation
"Gordon Greenberg's striking production transforms the small Menier Chocolate Factory theatre into a big top and circus ring…you should want to roll up, roll up to Barnum." The Independent
"The singers and dancers fill the arena with constant, teeming life and close-up feats of acrobatic wonder."  What's On Stage
---
New Vic Theatre and Oxford Playhouse
Peter Pan In Scarlet
Aerial design, Actor Training and Aerial Choreography
"It's heart-in-the-mouth stuff as they fly above the stage. With imaginative staging and an innovative approach to the story, this is a class production." The Stage
"The overhead action is so visually outstanding that it's worth the price of admission on its own." The British Theatre Guide
---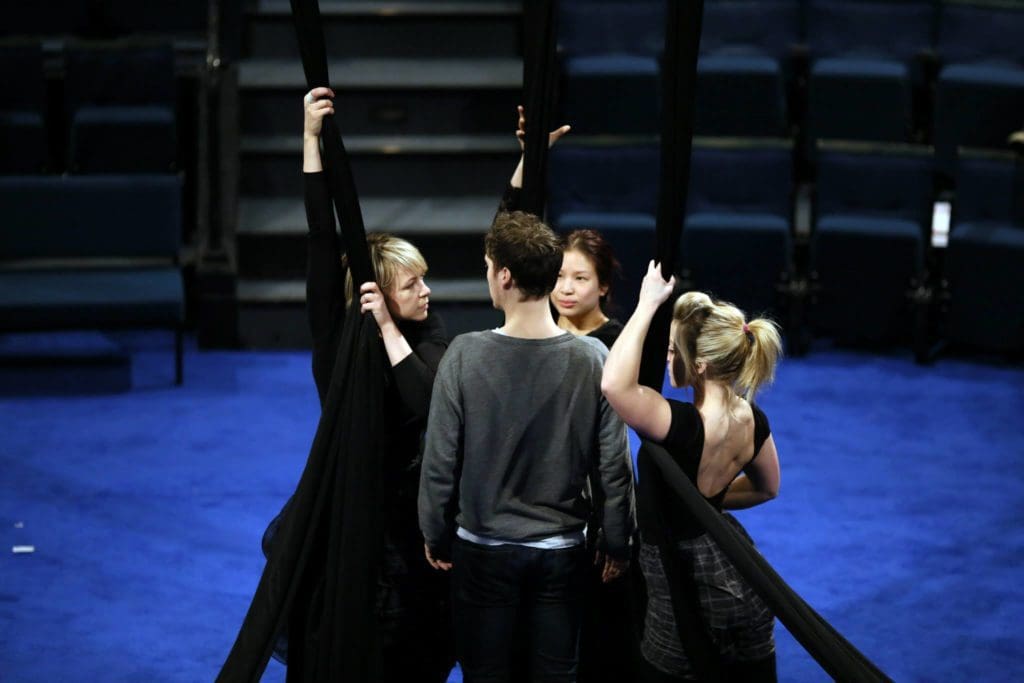 New Vic Theatre
Dracula
Aerial design and choreography
"For the third time in her tenure at the New Vic, Theresa Heskins has brought in aerial company Upswing to lift a show to new heights…For Dracula, aerial director Vicki Amedume produces some stunning sequences" British Theatre Guide
Wicked Lady
Aerial Design and Direction
"Equating sex, riding, freedom and flying, with terrific input from aerial experts, Upswing, this is one hell of a sexy ride taken at a real gallop." The Guardian
---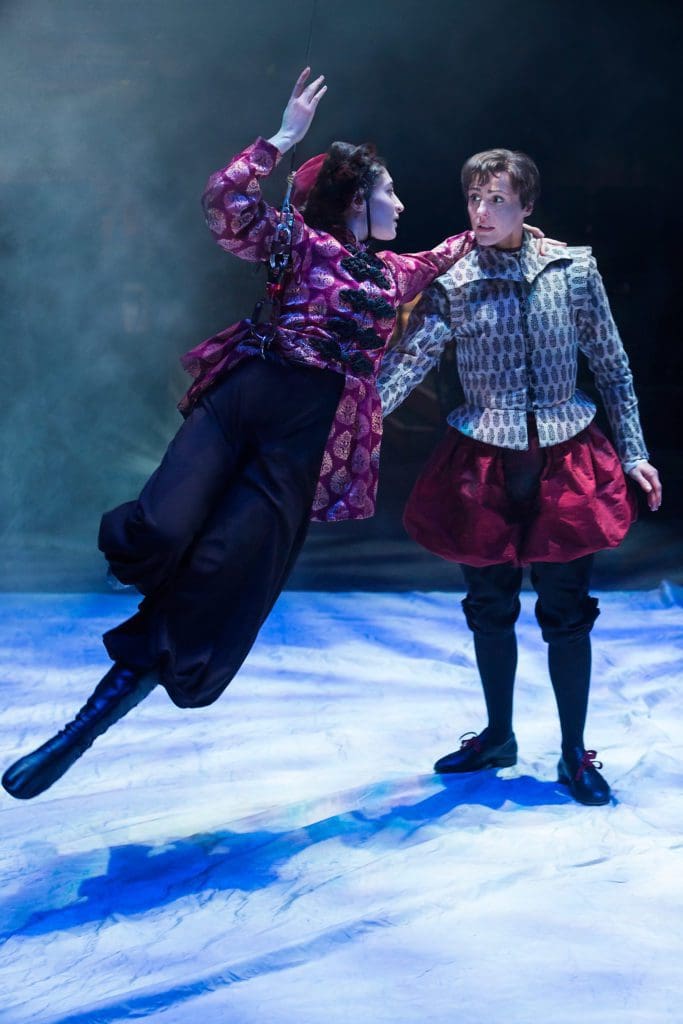 Royal Exchange Theatre
Orlando
Aerial Design and Choreography
"It has been an absolute pleasure, and thank you for all your help, advice and support. The flying sequences have come together really efficiently and very effectively…we have learned a lot from you to take forward." Keith Broom, Technical Manager, Royal Exchange Theatre
Into The Woods
Aerial Consultation
"The evening turns Woolf's fiction-softened argument into air that fills your lungs, becoming a magnificent celebration of transcending as well as trans-gending." The Telegraph
---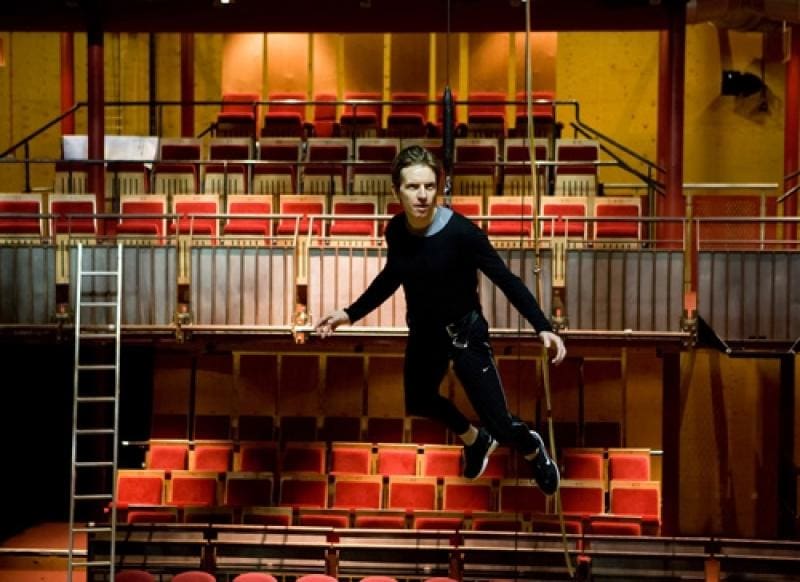 The Royal Shakespeare Company
Little Eagles
Aerial Consultation
"The sight of a Sputnik model rotating like a silver ball and an aerially suspended Gagarin spinning through the cosmos is exhilarating." The Guardian