CIRCUS IN LIBRARIES
Upswing have been working with libraries since 2014 to create alternative creative experiences. These interactive performances and workshops transform the space to capture the imaginations of young family audiences and encourage them to play together, spending precious quality time in their local community libraries.
Once Upon a Pillow Fight
Once Upon a Pillow Fight is a 20-minute show commissioned by Islington Word Festival and drawn from Upswing's successful touring show Bedtime Stories. Families watch from comfy beds, but while they settle in, two characters are not nearly ready for bed and their bedtime rituals soon descend into pillow-fighting chaos.
The set remains after the performance, inviting parents, carers and children to stay and read together.
Suitable for ages 3+
---
Topsy Turvy
Topsy Turvy is an immersive performance for young families inviting audiences to crawl, jump and tumble through a colourful landscape of tents. This intriguing new world is animated with acrobatics, storytelling and music, inspired by The Ramshackle House it considers how we live together and create space for others.
Suitable for ages 3+
---
Pitch
In Pitch, an artistic residency in Willesden Library, Brent, children and their families took part in a unique, in-depth experience with circus in a transformed library space. The residency included performances on the theme of the great outdoors, which participants responded to in a series of circus, music and drawing workshops.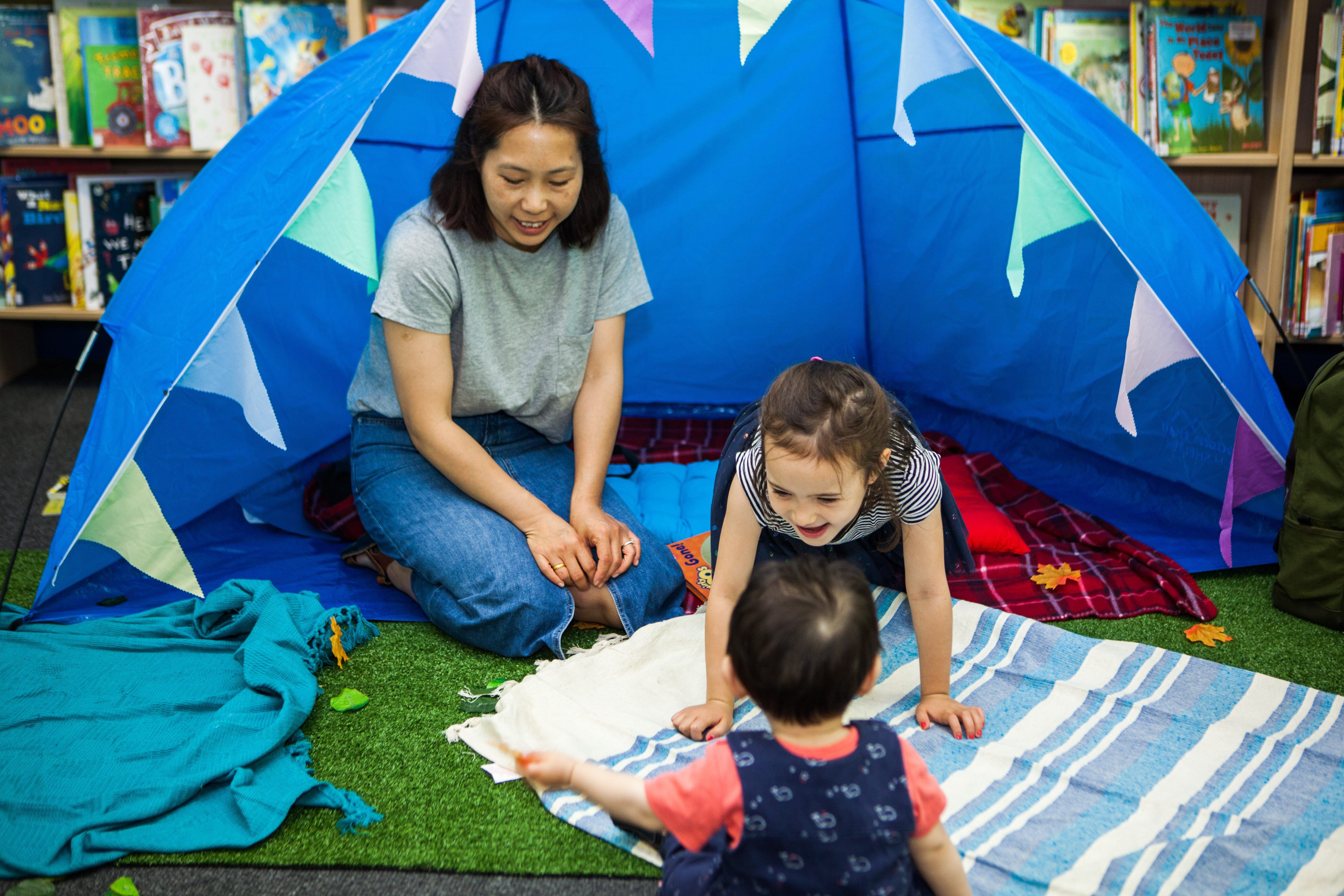 TESTIMONIES
"It was a beautiful show, encompassing circus and live sound/music which engaged all ages."
"I was amazed by how a simple set had transformed the library into a mesmerising enchanted gardens!"
"We had a positive response from families, some of which returned several times to see the show."
MORE INFO AND BOOKINGS
To find out more about booking existing work or developing a new partnership, contact on 0207 613 4843 or projects@upswing.org.uk