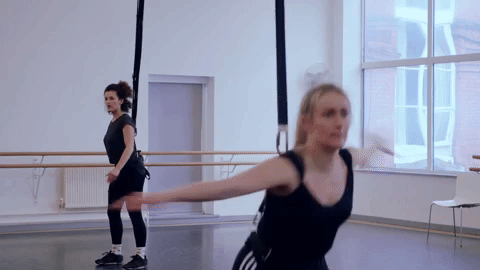 Ever wanted to learn how to fly?
Upswing's unique bungee dance technique will empower you to bounce and soar weightlessly through the air. Attached to a specifically designed harness, you can learn how to defy gravity with grace and ease. 
We have a whole host of new Bungee Dance Class dates – from short Taster sessions, to 4-hour masterclasses, to a unique one off opportunity to train with our very own Vicki Amedume – Upswing's Artistic Director (one date only!).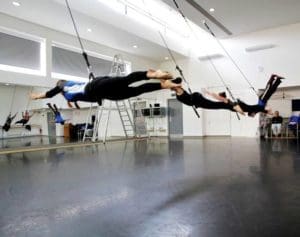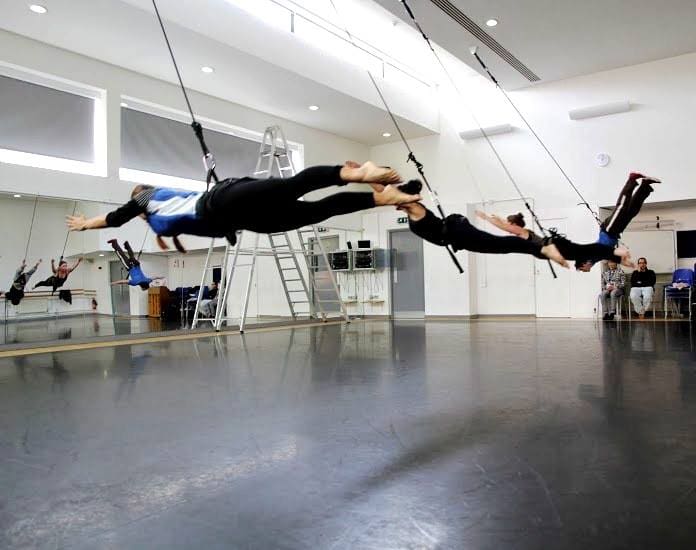 Bungee Dance Taster Sessions
We've now announced our last opportunities to fly with us before the summer…
Saturday 4th April 2020 – book here
Sunday 5th April 2020 – book here
Bungee Dance Taster sessions are 1 hour and 45 minutes long and focus in core bungee dance technique – perfect for first-timers who are ready to try something new. Led by highly skilled professional dance and circus artist, Simon Lindsay, you'll be fully supported in exploring this new technique in a safe and accessible way. Bungee Taster sessions are perfect to find your wings and explore the technique.
Bungee Dance Masterclasses
NEXT DATE: Back in September 2020
Masterclasses are intensive four-hour sessions lead by Simon Lindsay. They will cultivate your control, core strength and coordination – coaching you in the basic moves that culminate in a choreographed group routine at the end of class. Classes are limited to 8 per session, so you receive focused support and guidance throughout your session. You do not have to have attended a Taster Session prior to a Masterclass.
Bungee Dance Next Level with Vicki Amedume
NEXT DATE: Back in 2021
Next Level classes are for those who have previously attended our Bungee Dance Masterclasses, or have previous experience with the technique, and are looking to learn new sequences and take their skills to the next level. These 4 hour sessions are delivered with our very own Vicki Amedume – Upswing's Artistic Director. With only one date programmed this year, book soon – we expect these to go very quickly!
Booking & Further Information
Please read our FAQ's and Terms and Conditions before booking.
Book your class via our Eventbrite page here
Sign up here to join our mailing list and receive priority tickets on all future masterclasses and workshops.